Hi, welcome to Pasadena! My kids are grown, so my info on little kid's parks may not be the most up to date. We also like the local mountains, so some of the stuff leans toward them.
At the corner of Orange Grove & Sunnyslope is a cluster of little parks, divided by a fenced wash. I think they're called
Eaton Sunnyslope Park
as a group. There's a dog park & a kid's playground to the East of the wash, & 2 small parks surrounded by little "hills" to the West of it. If you're looking for a quiet little park, these usually would fit the bill.
In Bungalow Heaven there's
McDonald Park
at the corner of Wilson & Mountain. The neighborhood has many restored Craftsman style bungalows from the early 1900s, & the park seems to be nice too. The area has a family sort of feel to it, but I haven't spent much time at the park.
Brookside Park
is located just South of the Rose Bowl, & it's a big one with almost everything. It can be very busy at times, but it's worth a trip if just to check out the little valley with the Rose Bowl. A drive to the South from there on Arroyo Blvd. will take you under the
Colorado Street bridge
& then along the rim of the Arroyo.
Speaking of the Rose Bowl, be sure to catch
Kare Youth League's Circus
in early June of 2011. It's geared for kids & it's a lot of fun. We've been several years, even though my kids are now grown. The carnival/midway is always a hit with the kids. The main show is normally very good, although 2010's wasn't as good as usual. I would expect next year to back up to the normal quality. The Peking acrobats in 2009 were amazing. Their site:
Annual Kare Youth League Circus
seems to still have last years info & dates, but I'm sure it'll be updated well before June.
Singer Park
is an interesting little old park at the corner of California & St. John, but the streets are close & busy, & the park isn't fenced.
Washington Park
has a reputation of being dangerous. I don't know how accurate that is, but there's lots of other parks that don't have that reputation.
Memorial Park
is a nice looking park with performances at a outdoor stage, but the homeless crowd is pretty heavy in the area. I don't remember seeing a playground.
Altadena is just to the North of Pasadena, & it borders the National Forest. There's the
Eaton Canyon Nature Center
just North of the corner of Altadena Drive & New York. It's almost hidden. You drive down a short road to the canyon floor. It's hot & dry feeling in the summer, but there's a small stream running thru it. The other seasons are more comfortable. You can make it a visit to the edge of the wilderness, or more of a rock hopping hike as the kids get bigger. There's picnic tables & short marked nature trails near the parking lot. If you hike upstream, there's nice areas to picnic on the ground or rocks under the trees. After rains, the stream will be larger & faster moving, not a good choice with little ones. There's horse trails the area too, it's not uncommon to see horses. If you hike far enough upstream (Maybe 3/4 of a mile?), there's a nice waterfall with a pool around it. From their site:
Quote:
Eaton Canyon Natural Area is a 190-acre zoological, botanical, and geological nature preserve situated at the base of the beautiful San Gabriel Mountains. Visitors can enjoy its hiking trails, equestrian trails with a staging area, picnic areas, seasonal stream, rocks and minerals, various natural habitats, native plants, and wildlife.

The Eaton Canyon Nature Center is a 7,600 square-foot building with a museum and exhibit hall areas containing many fascinating natural history displays, local history exhibits, live animal exhibits, offices, classrooms, a library, an auditorium, restrooms, information desk, and gift shop.
As a kid I enjoyed
Farnsworth Park
, but the neighborhood got pretty rough & we quit going in the 80s. A lot of the neighborhoods have improved in recent years, it might be worth checking again. It's a very cool, large, old park, with lots of stone work around. It's pretty far North, actually in Altadena. It's on a hill, has built in stone BBQ's & covered picnic tables. I think there's playground equipment, but we had a lot of fun just rolling on the grassy hill. I really need to go check it out, it's always been one of my favorite parks.
Pasadena City Hall isn't really set up for playing, but it's an interesting place for a visit & a walk. It has an open air courtyard in the center, with a fountain & gardens, surrounded by long open air echoy hallways. I think we still have access to the 2nd story walkways around the courtyard. It's worth a trip. See the pics below.
Pasadena has a site with more park info here:
Facilities and Parks
LA County has a parks locator here:
County of Los Angeles - Department of Parks and Recreation
, which would have some Altadena info.
City Hall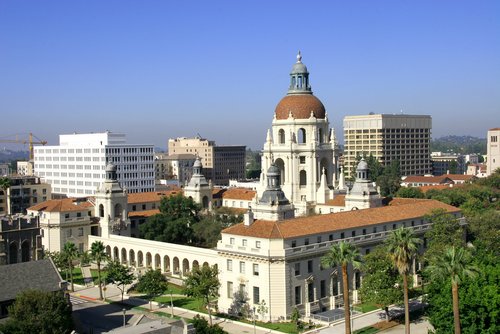 l

__________________